Chris Polk
can make a defense YAC.
That's "Yards After Contact," and opposing defenses yielded in 2009 an estimated 700 yards of it to Polk, the most successful freshman tailback in Washington history.
Polk finished with 1,113 yards rushing, which ranks seventh on the Huskies' all-time list, averaging 4.9 yards per carry despite running behind an offensive line that most would agree was slightly below average.
That line figures to considerably improved in 2010. Seven players with starting experience are back, and another year of offseason workouts has turned a unit that looked decidedly soft in the middle in 2008 into a physically impressive crew.
[+] Enlarge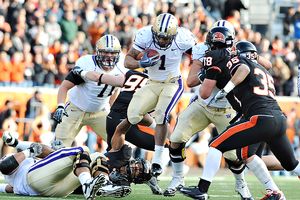 AP Photo/Greg Wahl-StephensWashington running back Chris Polk rushed for 1,113 yards and five touchdowns last season.
"Everybody wants to point this out as a position of weakness for us," coach Steve Sarkisian said. "In my humble opinion, it should be a position of strength."
Speaking of soft: It's hard to believe that's what some thought about Polk as a true freshman. He avenged 1.6 yards per carry on 20 carries before a shoulder injury ended his season after two games (he got the year back from the NCAA). He certainly didn't do much to justify his lofty pedigree: A touted recruit, he'd turned down USC to be a Husky.
But, last fall, starting with a physical 90 yards on 21 carries in the opener versus LSU, Polk consistently threw his 216 pounds into tacklers and won the leverage battle. It's even more impressive when you consider he played through a torn left labrum in his shoulder, which he suffered while throwing a block in the sixth game against Arizona.
Polk takes pride in his YAC, but he doesn't want the perception of him to be limited to breaking tackles. Actually, he prefers to make guys miss. His focus during conditioning and film sessions during the offseason was trying to transform those grinding efforts into 50-yard touchdown jaunts.
"I don't see myself as a power runner," said Polk, who also returns kicks and is a solid receiver.
Of course, not everything was rosy for Polk and the Huskies' running game last season. There were multiple instances when the offense failed to convert in short-yardage situations, most glaringly against Notre Dame when a single yard proved unobtainable on the goal line five times. Embarrassing? Yes.
"That left a bitter taste in our mouths," Polk said. "Coaches talk about it all the time as a point of emphasis."
There's something else that might have left Polk bitter: A lack of credit. Despite his production, he didn't receive many accolades last season, and most of the preseason attention is focused on his quarterback,
Jake Locker
, and running backs in the state of Oregon: Oregon's
LaMichael James
and Oregon State's
Jacquizz Rodgers
.
And, yes, Polk does pay attention to what the more heralded running backs are doing.
"I always look and see what those guys did," he said. "I love to compete. When we play each other, my goal is to be the better back."
But it's not all about numbers: "I had 1,000 yards last year and it didn't really mean much during the bowl season. We were still at home," he said.
Polk, who sat out spring practices after offseason shoulder surgery, figures to share the ball more this season. The Huskies are fairly deep at running back, with
Johri Fogerson
and true freshman
Jesse Callier
likely to get touches.
Sharing is no problem, Polk said, and he also waved away the notion that playing in Locker's considerable shadow is frustrating -- "He's a true leader on the field and off the field."
Polk, in fact, doesn't seem too eager to celebrate the Huskies offense, which figures to be high-powered, nor the higher expectations that surround the team in Sarkisian's second season.
"We have a lot of weapons, but if we don't execute it doesn't mean anything," he said. "We're really still the underdogs. We're going to go out there and shock the nation."
If that proves true, expect there to be some YAC-ing.